Mango as World Tropical Fruits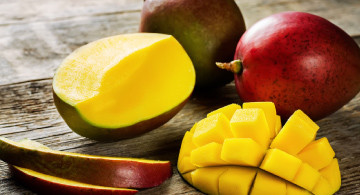 World production and trade of fresh tropical fruit is expected to expand over the next decade. Developing countries account for about 98 percent of total production, while developed countries account for 80 percent of world import trade. The major tropical fruits account for approximately 75 percent of global fresh tropical fruit production. Mango is the dominant tropical fruit variety produced worldwide, followed by pineapples, papaya and avocado. For the purpose of the projections exercise, these four varieties are referred to as "major tropical fruits". Other fruits, such as lychees, durian, rambutan, guavas, and passionfruit are referred to as "minor tropical fruits", and while produced and traded in smaller volumes, their market shares have been expanding rapidly in recent years.
The flavor of mango fruits is constituted by several volatile organic chemicals mainly belonging to terpene, furanone, lactone, and ester classes. Different varieties or cultivars of mangoes can have flavor made up of different volatile chemicals or same volatile chemicals in different quantities. In general, New World mango cultivars are characterized by the dominance of δ-3-carene, a monoterpene flavorant; whereas, high concentration of other monoterpenes such as (Z)-ocimene and myrcene, as well as the presence of lactones and furanones, is the unique feature of Old World cultivars. In India, 'Alphonso' is one of the most popular cultivars. In 'Alphonso' mango, the lactones and furanones are synthesized during ripening; whereas terpenes and the other flavorants are present in both the developing (immature) and ripening fruits. Ethylene, a ripening-related hormone well known to be involved in ripening of mango fruits, causes changes in the flavor composition of mango fruits upon exogenous application, as well. In contrast to the huge amount of information available on the chemical composition of mango flavor, the biosynthesis of these chemicals has not been studied in depth; only a handful of genes encoding the enzymes of flavor biosynthetic pathways have been characterized to date.
While products such as bananas, pineapples, kiwifruit and citrus have long been available to consumers in temperate zones, new fruits such as lychee, longan, carambola, and mangosteen are now also entering the market. Confirmation of the health benefits of tropical and subtropical fruit may also promote consumption further. Tropical and subtropical fruits are particularly vulnerable to postharvest losses, and are also transported long distances for sale. Therefore maximising their quality postharvest is essential and there have been many recent advances in this area. Many tropical fruits are processed further into purees, juices and other value-added products, so quality optimization of processed products is also important. The books cover current state-of-the-art and emerging post-harvest and processing technologies. Volume 1 contains chapters on particular production stages and issues, whereas Volumes 2, 3 and 4 contain chapters focused on particular fruit.Chapters in Volume 3 of this important collection review factors affecting the quality of different tropical and subtropical fruits, concentrating on postharvest biology and technology. Important issues relevant to each specific product are discussed, such as postharvest physiology, preharvest factors affecting postharvest quality, quality maintenance postharvest, pests and diseases and value-added processed products, among other topics.Along with the other volumes in the collection, Volume 3 is an essential reference for professionals involved in the postharvest handling and processing of tropical and subtropical fruits and for academics and researchers working in the areaCovers current state-of-the-art and emerging post-harvest and processing technologiesImportant issues relevant to each particular fruit are discussed, such as postharvest physiology, preharvest factors affecting postharvest quality and pests and diseases
Go Tropical with Super Fruits Reviewed by Karen Ansel, MS, RDN, CDN Published January 26, 2018 Jasmina81/iStock/Thinkstock When you shop for fruit, do you usually fill your cart with the same standbys? If the answer is yes, your family could be missing out on some of the tastiest and most nutritious fruits available! Colorful, juicy tropical fruits have a natural sweet flavor that kids love. If you haven't taken a walk on the tropical side, try these four unconventional picks. Mangoes Mangoes are loaded with vitamin C, a nutrient that helps wounds heal, promotes healthy gums and keeps your child's immune system strong. One-half cup of sliced mangoes provides more than two-thirds of the vitamin C children under 13 need per day. For an exotic afternoon snack, serve mango slices with a pinch of sea salt and a squirt of lime. Or, whip up a batch of mango ice pops. Simply puree fresh, ripe mangoes in a food processor, pour into ice cube trays, insert a wooden stick and freeze for a frosty 100-percent fruit treat. Guavas Guavas provide fiber to help keep your child's digestive system in top shape. Just one medium guava boasts 3 grams of fiber. That's as much as you get from a half cup of raisins or a cup of apple slices with skin on. For an even bigger fiber boost, puree whole guavas with the skin on in shakes, smoothies and juices. Avocados Did you know avocados are fruit? With heart-friendly nutrients monounsaturated fat and vitamin E, avocados are a smart pick for cardiovascular health. Try them at breakfast for a new spin on "birds in a nest." Break one whole egg into half a pitted avocado and bake for 20 minutes in a 425°F oven. Serve with a spoonful of your favorite salsa. Papayas These pink-orange fruits provide vitamin A through an especially potent form of beta-carotene for healthy skin and eyes. In fact, the form of beta-carotene in papayas may be even easier for our bodies to use than the kind in carrots or tomatoes. Fat in a meal or snack increases the amount of beta-carotene the body absorbs, so pairing papaya with avocados and chopped fresh mint in a sweet yet savory salad is nutrition-savvy and delicious. Reviewed January 2018 Karen Ansel, MS, RDN, CDN is a nutrition consultant, journalist and author specializing in nutrition, health and wellness. Tags Food Planning and Prep Snack and Meal Ideas Smart Shopping For Kids For Gradeschooler